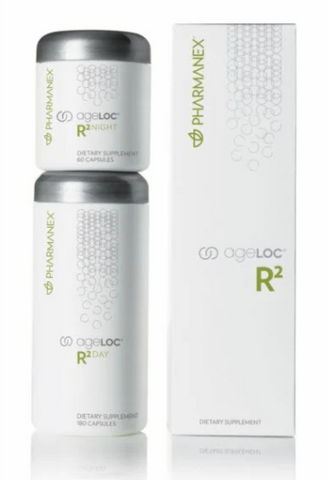 ageLOC R2
ITEM
01003901
ageLOC® R2 -
Helps Us Feel Young Again
Our genes change as we age and this affects our ability to feel young. ageLOC® R2 is a powerful product combination that works by targeting YGCs related to cellular purification and cellular energy production toward a more youthful time.

Take ageLOC® R2 in the evening, and it will optimize each cell's natural purification process, helping you start each day feeling refreshed and renewed.

When you use ageLOC® R2 in the morning, it will optimize cellular energy production to help you recharge and take control of a new day. Renew and recharge with ageLOC® R2.


Benefits Of ageLOC® R2
Targets aging at its source.
Promotes healthy YGC expression related to cellular purification and cellular energy production.
Helps you feel younger and more vibrant—renewed and recharged.
Promotes three dimensions of vitality that typically decline with age—physical vigor, mental acuity, and sexual health.
90% of consumers felt positive changes in fatigue levelswhile taking the product or noticed an increase in fatigue after discontinuing use. 2
Raises and sustains baseline energy levels.
Supports the body's ability to neutralize and remove cellular waste and toxic byproducts.
Helps protect and fortify cells against damage from external toxins by improving the body's own protective mechanisms.
Helps restore normal cellular function.


How To Use This ageLOC® R2 By Nu Skin

Men and women over the age of 18 who have ever felt tired, weighed down, sluggish, or the inability to fully engage in active life, and who want to feel youthful and vibrant.
Take six (6) ageLOC R2 Day capsules in the morning, and take two (2) ageLOC R2Night capsules in the evening.


Ingredients
AGELOC R2 DAY
Supplement Facts
Serving Size 6 Capsules              Servings Per Container 30
AMOUNT PER SERVING:          % DAILY VALUE
ageLOC® R2 Day Blend                 2270 mg


* Cordyceps Cs-4 Mushroom Mycelia (Cordyceps sinensis [Berk.] Sacc.), Pomegranate (Punica granatum) Fruit Extract, Pharmanex Asian Ginseng Rb1 (Panax ginseng) Root Extract


OTHER INGREDIENTS
Microcrystalline Cellulose, Capsule (Gelatin, Titanium Dioxide), Stearic Acid, Silicon Dioxide.


AGELOC R2 NIGHT
Supplement Facts
Serving Size 2 Capsules              Servings Per Container 30


AMOUNT PER SERVING:          % DAILY VALUE
ageLOC® R2 NIGHT Blend                 450 mg


Grape (Vitis vinifera L.) Seed Extract, Red Orange (Citrus sinensis) Fruit Extract, Broccoli (Brassica oleracea italica) Seed Extract


OTHER INGREDIENTS
Capsule (Gelatin), Microcrystalline Cellulose, Stearic Acid, Silicon Dioxide.

Resources 
Product Information Page 
ageLOC Guarantee