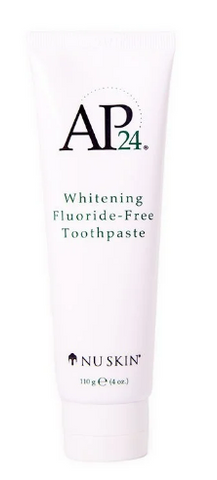 AP 24® Teeth Whitening - Fluoride-Free Toothpaste
ITEM 01001650
AP 24® Whitening Fluoride-Free Toothpaste - Brightens and Whitens Teeth Naturally
This New AP 24® Teeth Whitening Toothpaste is a
Fluoride-Free Toothpaste -that lightens teeth with no peroxide and prevents plaque formation!
This gentle, vanilla mint formula freshens breath and provides a clean, just-brushed feeling that lasts all day long!
Benefits of AP24 Teeth Whitening Toothpaste
Lightens teeth without peroxides
Provides a long-lasting, smooth, clean, fresh mouth feeling.
Refreshing, vanilla mint flavor.



KEY INGREDIENTS
•
AP 24— a plaque-fighting agent of medical-grade dimethicone and surfactants.
 Many people love the fresh and clean way that AP 24 toothpaste makes their mouth feel.
• Proprietary blend of hydrated silica and aluminum hydroxide
— a unique combination of mild abrasives that polishes and smooths teeth without eroding enamel.
BEFORE AND AFTER PHOTO WITH THIS SAFE & POWERFUL TEETH-WHITENING TOOTHPASTE
FREQUENTLY ASKED QUESTIONS:
1. What is the difference between AP 24 Whitening Fluoride Toothpaste and AP 24 Whitening Fluoride-Free Toothpaste?
AP 24 Whitening Fluoride-Free Toothpaste is formulated just like AP 24 Whitening Fluoride Toothpaste, just without the fluoride.
2. What are the 2 Main Reasons that make Nu Skin's whitening technology different than many other brands?
• Has No Hydrogen Peroxides
— the problem with hydrogen peroxide is that
it can cause tooth and gum sensitivity. • Has No Harsh Abrasives That Destroy Your Enamel
—
harsh abrasives are used on many other brands.
Yes, they will remove stains but it will erode and scratch your teeth!
How To Use This Teeth Whitening Toothpaste By Nu Skin
Adults and children 6 years of age and older: brush teeth thoroughly, preferably after each meal, at least twice a day, or as directed by a dentist or physician. Instruct children under 6 years of age in good brushing and rinsing habits (to minimize swallowing). Supervise children as necessary until capable of using without supervision.
Ingredients
Water (Aqua), Hydrated Silica, Sorbitol, Aluminum Hydroxide, Glycerin, Tetrasodium Pyrophosphate, PEG-12, Dimethicone, Poloxamer 338, Poloxamer 407, Cellulose Gum, Sodium Lauryl Sulfate, Flavor (Aroma), Sodium Saccharin, Titanium Dioxide (CI 77891), Sodium Hydroxide.

Resources


SB484 Warning for Consumers in California
Need toothpaste with a fluoride teeth whitening formula?
Great news, we have the same powerful AP 24 formula with fluoride.
Please
Click Here
for more info.
CLICK ADD TO CART BELOW FOR OUR AP24 FLOURIDE-FREE TEETH WHITENING TOOTHPASTE -

YOU'RE TEETH & YOUR SMILE WILL BE HAPPY THAT YOU DID!