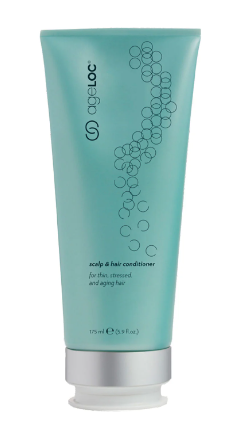 ageLOC Scalp & Hair Conditioner
ageLOC Scalp & Hair Conditioner
AKA ageLOC Nutriol Conditioner
Item # 01002107  175 mL / 5.9 Fl Oz
Say hello to fuller-looking, more lustrous locks. When you combine this ageLOC Scalp and Hair Conditioner with ageLOC Scalp and Hair Shampoo they will provide the optimal nourishment to support healthy, visibly fuller hair, while this exclusive blend of rejuvenating ingredients gives your hair extra volume and shine.

• Scalp- and Hair-Loving Protein Blend - Revitalizes the scalp and promotes the appearance of stronger, thicker, healthier hair that resists breaking.

• Vitamin E and Other Antioxidants - Protect scalp and hair from free radicals.

• Hair Conditioning Blend - Promotes soft, silky, lustrous hair.

• BCA - Protects hair from heat and makes hair appear smoother, shinier, softer, and more manageable.



The 8 Benefits of ageLOC Nutriol Conditioner
Nourishes scalp for healthy hair.


Provides antioxidant protection.


Promotes healthy, visibly thicker, shinier hair.


Helps hair feel stronger and more resilient.


Deeply hydrates and nourishes dry, damaged, overprocessed hair.


Promotes fullness and body without weighing hair down.


Gentle enough for the scalp and strong enough to strengthen hair down to the roots.


Color-safe and protects hair from heat, pollution, and free radicals.




KEY INGREDIENTS