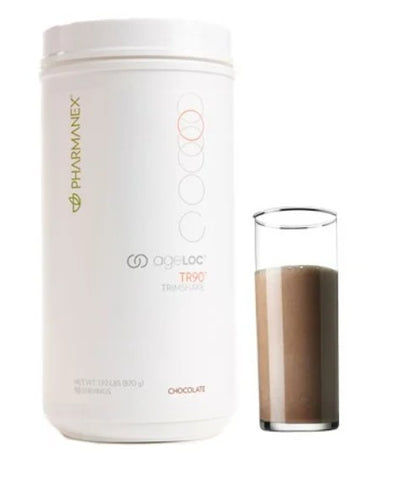 ageLOC TR90 TrimShake Chocolate
ITEM 01003748  
SIZE 
30 SERVINGS
ageLOC TR90 TrimShake Chocolate
ageLOC TR90 is an excellent and delicious solution that removes the guesswork, gives you a quality source of protein, whey isolate, and helps you control calories.

Research reveals that changes in body weight and shape are likely linked to gene expression. By better understanding gene expression, we have developed products that help promote normal metabolism and improve your mindset while helping promote your lean muscle.

Introducing ageLOC TR90, breakthrough weight management, and body shaping system, based on highly innovative gene expression science, that unifies your mind and body—for a leaner, younger-looking you.

ageLOC TR90 will help you stay motivated as you work toward your goals.

Together with a powerful, yet simple eating plan, an important part of the ageLOC TR90 system, and a more active lifestyle, ageLOC TR90 guides you on the path toward a healthier, happier life.

With mind, body, and ageLOC working for you, you can succeed. ageLOC TR90—transform your life in 90 days.


RESOURCES