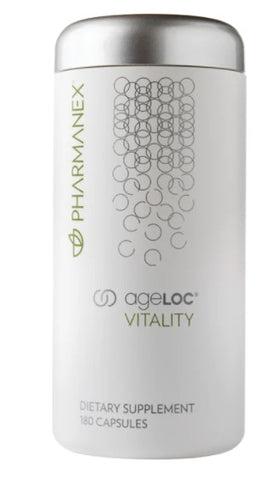 ageLOC® Vitality
ITEM 01003736 
SIZE 
180 CAPSULES
ageLOC® Vitality

ageLOC Vitality helps you feel more like you did when you were young by targeting the sources of age-related vitality loss.


BENEFITS OF VITALITY

Promotes healthy YGC activity associated with youthful vitality.
Supports three dimensions of vitality that typically decline with age—physical vigor, mental acuity, and sexual health.
Raises and sustains baseline energy levels.


HOW TO USE THIS VITALITY BY NU SKIN


Suggested Dosing: Take three (3) capsules twice daily.
Can be taken with or without food. Not to exceed six (6) capsules daily.
Alternate Dosing: Take six (6) capsules once daily to jump-start your day or to overcome that afternoon vitality slump.


INGREDIENTS


ageLOC™ Vitality Blend 1135 mg
Cordyceps Cs-4 Mushroom Mycelia (Cordyceps sinensis [Berk.] Sacc.), Pomegranate (Punica granatum) Fruit Extract, Pharmanex AsianGinseng Rb1 (Panax ginseng) Root Extract
Other Ingredients
Microcrystalline Cellulose, Capsule (Gelatin, Titanium Dioxide), Stearic Acid, Silicon Dioxide.