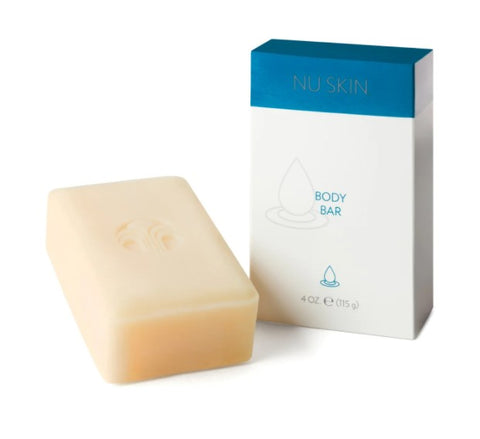 Body Bar
ITEM 01110353 
SIZE 
4 OZ.
Body Bar

A gentle yet effective cleanser in the traditional form of a bar, but this Body Bar has additional skin softening benefits. pH balanced Body Bar is a 100% soap-free cleanser scientifically formulated to condition the skin and help protect against dryness. (Great for the entire family).


THE MANY BENEFITS OF BODY BAR

100% Soap Free.
This pH-balanced bar does not contain harsh drying additives, coloring, or dyes.
Rinses away completely with no unpleasant film or residue.
Has non-drying cleansers that leave the skin completely clean, and aloe vera, tocopheryl acetate (vitamin E), and jojoba oil, impressive conditioners that leave skin soft and smooth.
Uses the humectant NaPCA that binds moisture to the skin.
Includes a scent derived from natural grapefruit extract for a fresh fragrance.
Protects precious moisture levels and makes your skin feel luxuriously soft and touchable.
Safety-Allergy-Dermatologist Tested.



HOW TO USE THIS BODY BAR BY NU SKIN

Apply Body Bar to dampened skin, work gently into a lather, and rinse thoroughly. Follow with Hand Lotion and Body Smoother.

Resources 

Product Information Page