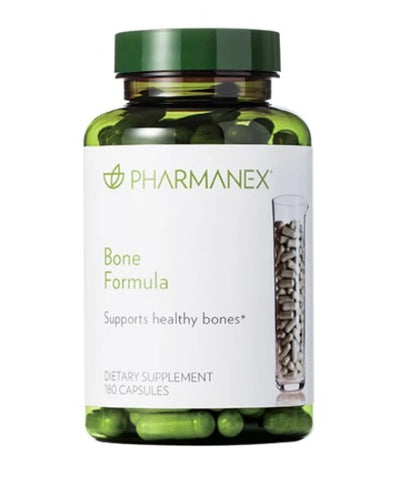 Bone Formula
ITEM 01003331 
SIZE 
180 CAPSULES
Bone Formula
This NuSkin and Pharmanex Bone Formula is an innovative, specially designed, nutritional blend assists bone formation, improves calcium absorption, and helps inhibit bone mineral loss.


BENEFITS OF BONE FORMULA

The unique combination of nutrients supports three aspects of healthy bones—bone formation, calcium absorption, and inhibition of bone loss.*
Novel sources of calcium and vitamin K for enhanced benefits not found in other bone health products; these ingredients have also been shown to support joint and cardiovascular health.*
Cutting-edge formula based on current research with clinically substantiated levels of bone support nutrients.*
Bone Formula provides 500 mg of calcium and 400 IU of vitamin D per daily dose.*


HOW TO USE THIS BONE FORMULA BY NU SKIN

Take three (3) capsules with eight (8) ounces of liquid with your morning and evening meals. Store in a cool, dry place.