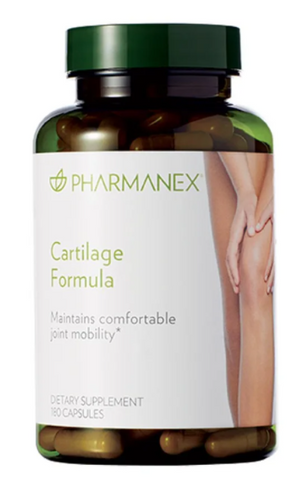 Cartilage Formula
ITEM 01003231 
SIZE 
180 CAPSULES
Cartilage Formula

Cartilage Formula is formulated with a new and innovative vegetable-source glucosamine to provide structural support to joints and cartilage.

Pharmanex Cartilage Formula Capsules provide clinically and nutritionally significant amounts of the nutrients that are essential to normal cartilage maintenance, strength, and function.

It contains a significant amount of glucosamine HCI (1,500 mg) as dictated by human clinical studies.*


BENEFITS OF THIS CARTILAGE SUPPLEMENT

Supplies glucosamine, a building block for the protective cartilage in our joints*
Contains antioxidant vitamins C and E, and quercetin for added joint and cartilage support*
*These statements have not been evaluated by the Food and Drug Administration. this product is not intended to diagnose, treat, cure, or prevent any disease.


HOW TO USE THIS CARTILAGE SUPPLEMENT BY NU SKIN

Six capsules daily: Take three (3) capsules with eight (8) ounces of liquid with your morning and evening meals.