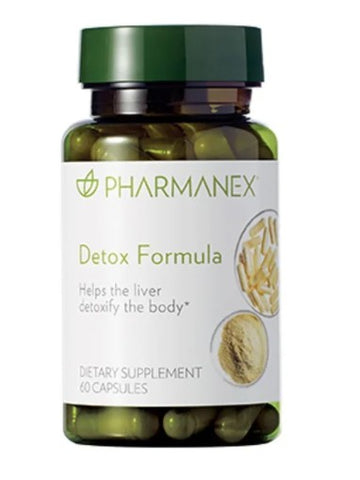 Detox Formula
ITEM 01003502 
SIZE 
60 CAPSULES
Detox Formula

Detox Formula is a proprietary blend of nutrients that helps support the normal detoxifying function of the liver.


BENEFITS OF DETOX FORMULA 

A proprietary blend of D-glucarate, milk thistle extract (with silymarin), N-acetyl-L-cysteine, and vitamin C promotes the neutralization and elimination of toxic metabolites and foreign chemicals in the liver*
The powerful blend of liver-protective antioxidants protects and maintains healthy liver cells and stimulates the normal growth of healthy liver cells*
Offers a special blend of ingredients that help promote the stimulation of normal bile flow the livers second line of defense against toxic chemicals*
Contains D-glucarate, a patented compound that has been scientifically validated to protect the body from harmful toxic metabolites. D-glucarate is a compound produced endogenously in humans and is also found in grapefruit, apples, brussels sprouts, and other plant sources.*
Provides vitamin C and N-acetyl-L-cysteine as dietary precursors to glutathione, the livers most important antioxidant for both phases I and II detoxification pathways*
*These statements have not been evaluated by the Food and Drug Administration. This product is not intended to diagnose, treat, cure or prevent any disease. and body


HOW TO USE THIS DETOX FORMULA BY NU SKIN

This product is intended for individuals who desire to provide dietary support for normal liver function. Take one (1) capsule with liquid with your morning and evening meals. Take consistently for best results.
Store in a cool, dry place.
Warnings: Keep out of reach of children. If you are allergic to a component of this product, pregnant or nursing, have a medical condition, or are taking a prescription medication, please consult a physician. The ingredients in Detox Formula have been shown to promote liver detoxification, which may affect the metabolism of prescription medicines in some people. Individuals with active liver disease should consult with their physician before taking Detox Formula.


INGREDIENTS


Ingredients
Amount
% Daily Value
Serving Size: 1 Capsule
Servings Per Container: 60
Vitamin C (as Calcium Ascorbate)
150 mg
250 %
N-Acetyl-L-Cysteine
125 mg
*
D-Glucarate (as Calcium D-glucarate)
125 mg
*
Silymarin (as Milk Thistle [silybum marianum L.] fruit extract 30:1)
70 mg
*
Other Ingredients: Gelatin, Calcium Carbonate, Stearic Acid, Silicon Dioxide.