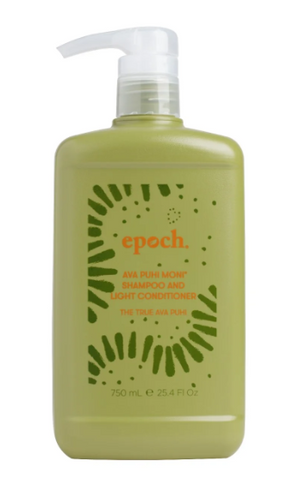 Epoch® Ava Puhi Moni® Shampoo and Light Conditioner (750ml)
ITEM #
01001993    SIZE 750 ML.

Epoch® Ava Puhi Moni® Shampoo and Light Conditioner (750ml)
Have you ever experienced a shampoo and hair conditioner that gently cleanses and hydrates, leaving your hair clean, vibrant, and with a luxurious feeling?

Need a hair care solution that does it all? Discover Epoch Ava Puhi Moni Shampoo and Light Conditioner. This is a 2-in-1 color-safe formula without sulfates and it cleanses and conditions in only one single step.

For generations, people in the South Pacific have traditionally cleansed and conditioned their hair with the nectar of the bulb-like Ava Puhi flower. Now, you can enjoy the true ava puhi experience too with this rich ethnobotanical shampoo and light conditioner. 
Benefits of Epoch Ava Puhi Moni Shampoo and Conditioner
• A convenient 2-in-1 formula that cleanses and conditions in a single step.
• Contains the extract from the bulb-like flower of Ava Puhi, the same extract that has traditionally been used for centuries in the South Pacific to clean, soften, and condition hair.
• Suitable for colored and/or chemically treated hair.
• Mindfully formulated without sulfates, parabens, or phthalates.
• Features a pleasant scent that leaves your tresses smelling amazing.
• Leaves hair clean, lustrous, and soft.
• Helps hair look and feel healthy and revitalized.
• Leaves hair more manageable, without heavy build-up or residue.
• Safety-dermatologist tested.
• Nu Skin donates $0.25 from every Epoch purchase to the Nu Skin Force for Good Foundation. 
How To Use This Shampoo and Conditioner 
Wet hair. Place a small amount of Epoch Ava Puhi Moni Shampoo and Light Conditioner in your hands and gently massage to create a lather. Apply lather throughout hair then rinse thoroughly. Follow with Epoch. Ava Puhi Moni Conditioner for added softening and conditioning.

Resources
Epoch® Ava Puhi Moni® Shampoo and Light Conditioner -
Product Information Page