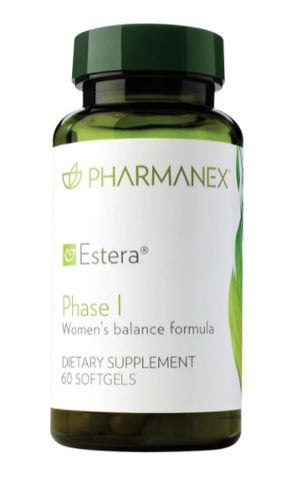 Estera® Phase I Women's Balance Formula
ITEM 01003640 
SIZE 
60 SOFT GELS
ESTERA PHASE I TRANSITION FORMULA SUPPLEMENT

 
Estera Phase I Balance Formula is designed for women in their childbearing years that promotes a healthy ratio of estrogen metabolites and provide relief from common PMS symptoms.


THE BENEFITS OF THIS FORMULA FOR WOMEN IN THEIR CHILDBEARING YEARS:
Provides phytoestrogens which are plant-based compounds. The powerful phytoestrogens should be incorporated into a woman's diet from an early age to decrease menopausal symptoms as well as the occurrence of hot flashes and other health concerns later in life*


Flaxseed powder lignans help promote a healthy ratio of estrogen metabolites early in life*


Estera Phase I also provides relief from PMS symptoms including fatigue, mild mood swings, breast tenderness, and water retention* 
OTHER HEALTH SUPPLEMENTS FOR WOMEN

:
1. Estera Phase II Transition Formula
is designed
for women during the perimenopausal or menopause transition years.
2. Estera Phase III Maintenance Formula
is
for women in their postmenopausal years.
It helps to promote estrogen metabolites and supports cardiovascular health, bones, cognitive function, and a normal lipid profile.



*These statements have not been evaluated by the Food and Drug Administration. this product is not intended to diagnose, treat, cure, or prevent any disease.


How To Use This Women's Balance Formula By Nu Skin

As a dietary supplement, take two (2) capsules daily, preferably one with your morning and evening meals