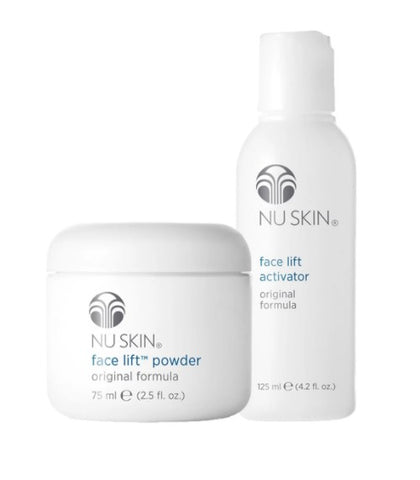 Face Lift with Activator (Original Formula)
ITEM 01110262 
SIZE 
2 PRODUCTS
Face Lift with Activator (Original Formula)
Face Lift works immediately to temporarily lift and tighten the face and neck for a firmer, more youthful appearance. This formula firms and tones the skin within minutes, smoothing away the appearance of fine lines and wrinkles.


BENEFITS OF FACELIFT WITH ACTIVATOR ( ORIGINAL FORMULA )
Contains albumin, an egg white-derived ingredient, and elastin, a structural protein found naturally in the skin.
The Original Formula has a slightly tighter pull on the face than the Sensitive Formula for the temporary reduction of visible lines and wrinkles.
100% Fragrance-Free.
Revives dull, tired skin by improving the appearance of the skin's tone and texture, for a smoother, tighter, all-around healthier feel.
Delivers much-needed conditioning to the skin with a combination of wholesome ingredients.
Soothes and softens with the use of natural aloe vera.
Creates a younger look by temporarily diminishing the appearance of lines and wrinkles.
Safety-Allergy-Dermatologist Tested.


HOW TO USE THIS FACELIFT WITH ACTIVATOR ( ORIGINAL FORMULA) BY NU SKIN

Cleanse face and neck with Cleansing Lotion or other cleansing choices. Mix one teaspoon of Lift Activator with one teaspoon of Lift Powder until you have the consistency of a thin lotion. Before the first usage, first test lotion for irritancy on a small, unnoticeable two-inch area of the skin such as behind the ear. Apply in an upward-outward motion with a brush in an even light coat. Leave on for 30 minutes. Remove by thoroughly flushing with warm water. Follow with pH Balance, Celltrex Ultra Recovery Fluid, and the Nu Skin moisturizer of your choice. Use once or twice weekly.


INGREDIENTS
Powder: Albumen, Zea Mays (Corn) Starch, Aloe BarbadensisLeaf Juice, Silica, Dipalmitoyl Hydroxyproline, Allantoin, Panthenol, Methylparaben.
Activator: Water (Aqua), Aloe Barbadensis Leaf Juice, FucusVesiculosus (Bladderwrack) Extract, Allantoin, Panthenol, SodiumPCA, RNA, Benzalkonium Chloride, Butylene Glycol, DisodiumEDTA, Methylparaben, Phenoxyethanol.


RESOURCES