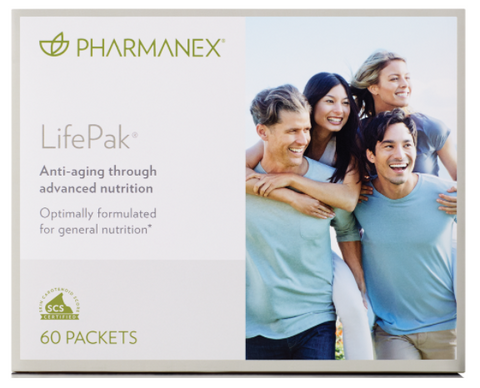 LifePak® Anti-Aging Formula Supplements
ITEM
01003680  SIZE 

60 PACKETS
LifePak® Anti-Aging Formula Supplements
LifePak Anti-Aging Formula Supplements gives you an amazing extensive range of vitamins, minerals, and antioxidants, for men over 40 and postmenopausal women. 
Many of us try to eat a wide variety of healthy foods, but we soon realize that we aren't eating all of the needed nutritious whole grains, vegetables, fruits, calcium-rich foods, and lean proteins that we should for a well-balanced diet. That's why we created this anti-aging LifePak.
This exceptional nutritional supplement provides your body with also a variety of micronutrients, phytonutrients, and antioxidants—these compounds are essential to optimal health.
LifePak Prime Anti-Aging Formula is a scientific
 formula that supports longevity and wellness. It supplies a comprehensive array of vitamins and minerals to fill the nutrient void that your daily diet may leave.
When taken in conjunction with MarineOmega, LifePak provides a nutritional foundation for a life full of vitality and energy and free of debilitating conditions associated with nutritional deficiencies and low antioxidant levels.*
Benefits of

LifePak Prime Anti-Aging Formula

 
Offers superior anti-aging benefits and cell protection by providing the body with important antioxidants and phytonutrients such as alpha-lipoic acid and catechins


Improves and supports your antioxidant defense network


Supplies a comprehensive blend of nutrients to support a healthy cardiovascular system


Provides comprehensive bone nutrition support


Promotes healthy immune function


Supports normal blood sugar metabolism


Corrects nutritional deficiencies


How to Use This Anti-Aging Supplement
Two packets daily. Take the contents of one (1) LifePak® packet with eight (8) ounces of liquid with your morning and evening meals.

* Contains Shellfish



Resources
Product Information Page