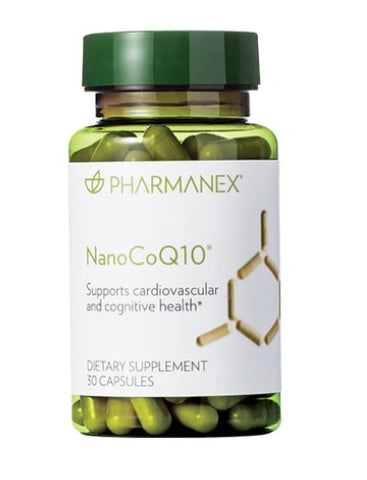 Nano CoQ10®
ITEM 01003662 
SIZE 
30 CAPSULES
Nano CoQ10®
NanoCoQ10 utilizes cutting-edge nanotechnology to deliver highly bioavailable coenzyme Q10 for potent cardiovascular and cognitive benefits.


BENEFITS OF NANO COQ10
Coenzyme Q10 (CoQ10) helps produce energy at the cellular level to nutritionally support the body's major tissues and organs and to provide anti-aging benefits. CoQ10 supports heart health and helps protect brain cells, an important factor in preserving mental function. Since CoQ10 is a powerful antioxidant and "recycles" vitamins C and E, it supports the entire antioxidant network in the skin and throughout the body. NanoCoQ10™ is a proprietary form of CoQ10 that utilizes breakthrough monomolecular encapsulation technology to wrap each CoQ10 molecule in an easily absorbable carbohydrate ring. Preliminary research suggests that nanotechnology dramatically improves bioavailability.*
*These statements have not been evaluated by the Food and Drug Administration. This product is not intended to diagnose, treat, cure, or prevent any disease.


HOW TO USE THIS NANO COQ10 BY NU SKIN

As a dietary supplement take one (1) capsule daily with food.


INGREDIENTS
Ingredients
Amount
% Daily Value
Serving Size: 1 Capsule
Vitamin E
   (from Mixed Tocopherols)
15 IU
50%
Coenzyme Q10 (Ubiquinone)
30 mg
**
* Daily Value not established
Other Ingredients: Microcrystalline Cellulose, Cyclodextrin, Stearic Acid, Silicon Dioxide.
RESOURCES