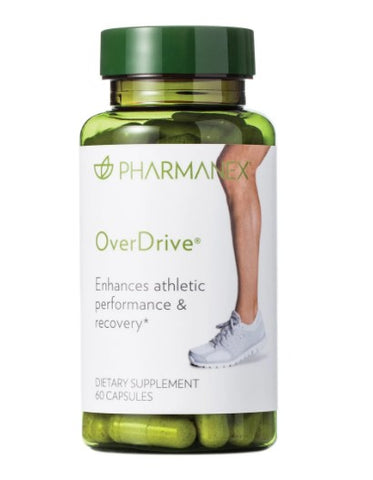 OverDrive®
ITEM 01003148 
SIZE 
60 CAPSULES
OverDrive®
Specially designed for individuals who engage in physical exercise. OverDrive provides B-vitamins, antioxidants, mineral cofactors, proteolytic enzymes, and electrolytes for energy metabolism and post-exercise muscle recovery.
NOTE: Pregnant or lactating women, diabetics, hypoglycemics, and people with known medical conditions should consult with a physician prior to taking supplements.


BENEFITS OF OVERDRIVE®
A complement of B-vitamins help assist the body's normal biochemical processes during exercise, including nerve function and proper metabolism of fats, carbohydrates, and proteins*
Includes three phytonutrient sources of powerful antioxidants: grape seed extract, citrus bioflavonoids, and quercetin, a flavonoid with powerful antioxidant activity
Contains n-Acetyl-L-Cysteine, an important amino acid used by the body as a building block for the body's powerful antioxidant, glutathione*
Provides magnesium, which plays a key role in muscle energy transfer reactions*
Contains proteolytic enzymes
*These statements have not been evaluated by the Food and Drug Administration. this product is not intended to diagnose, treat, cure, or prevent any disease.


HOW TO USE THIS OVERDRIVE® BY NU SKIN

Recommended Adult Use: To assist with athletic performance, take one (1) or more capsules with eight (8) ounces of liquid one hour prior to exercise according to the following chart. Take one (1) or two (2) capsules one hour after exercise.
Body Weight
Exercise Duration
100-130
131-160
161-195
195+
30 min. to 1 hour
1
1
1 to 2
1 to 2
1 hour to 2 hours
1 to 2
1 to 2
2
2
2+ hours
2 to 3
2 to 3
3
3 to 4
INGREDIENTS
Ingredients:
Amount
% Daily Value
Serving Size: 1 Capsule
Vitamin A (100% as Beta-carotene from Dunaliella Sauna, Beta-carotene)
2500 IU
50%
Vitamin C (Ascorbic Acid)
300 mg
500%
Vitamin E (d-Alpha Tocopheryl Succinate)
75 IU
250%
Thiamin (Thiamin Mononitrate)
0.75 mg
50%
Riboflavin (Riboflavin)
0.85 mg
50%
Vitamin B-6 (as Pyridoxine Hydrochloride)
1 mg
50%
Folate(Folic Acid)
100 mcg
25%
Vitamin B-12 (Cyanocobalamin)
3 mcg
50%
Pantothenic Acid (as d-Calcium Pantothenate)
5 mg
50%
Magnesium (as Magnesium Aspartate, Magnesium Oxide)
60 mg
15%
Selenium (as 1-Selenomethionine)
35 mcg
50%
Chromium (as Chromium Chelate, Chromium Picolinate)
100 mcg
83%
Bromelain (from Pineapple Extract)
50 mg
**
Papain (from Papaya Extract)
50 mg
**
Citrus Bioflavonoid Complex
50 mg
**
Sea Salt
50 mg
**
n-Acetyl-l-Cysteine
20 mg
**
Quercetin
12.5 mg
**
Grape Seed Extract with Leucoanthocyanin
2.5 mg
**
Other Ingredients: Gelatin, Magnesium Stearate, Maltodextrin, Sodium Carboxymethylcellulose, Silicon Dioxide.
RESOURCES