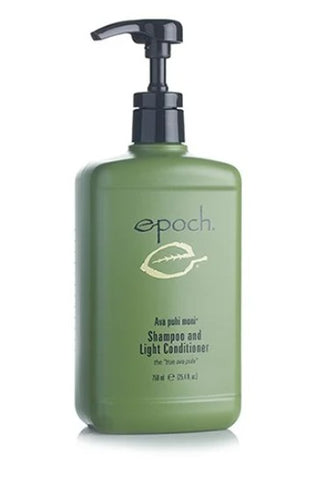 Epoch Ava Puhi Moni Shampoo and Light Conditioner (25.4 oz.)
Now you can enjoy the Ava Puhi experience with this rich ethnobotanical shampoo and light conditioner. Two products in one, it gently cleanses and hydrates, leaving your hair clean, vibrant, and luxurious feeling.


Benefits of Epoch Ava Puhi Moni Shampoo and Conditioner
Contains the true extract from the bulb-like flower cluster of ava puhi, the same extract used by Polynesians for centuries to soften and condition the hair.
Ethnobotanical shampoo luxuriously lathers and leaves hair clean, manageable, and soft.
Safe for colored or chemically treated hair.
Safety-Dermatologist tested.
$0.25 from each Ava puhi moni Shampoo and Light Conditioner goes to assist various cultures and projects through the Force for Good Campaign, which assists various cultures and projects around the world.




How To Use This Shampoo and Conditioner 

Wet hair. Place a small amount of Epoch Ava puhi moni Shampoo and Light Conditioner in hands and gently massage to create lather. Apply lather throughout hair then rinse thoroughly. Follow with Epoch. Ava Puhi Moni Conditioner for added softening and conditioning.

Resources 
Product Information page